family constellation VIRTUAL
Family Constellation is a great tool for personal growth and to overcome emotional and spiritual blockages and manifest a shift in one's life circumstances.
This method, developed by Bert Hellinger in Germany in the 1980's, is using the Morphogenetic Field of one's family system to uncover hidden dynamics which are the cause of suffering, because most challenges have their root cause not in ones own life, but in that of an ancestor.
Through epigenetic inheritance emotions and traumas are shared from one generation to another, often being undetected for a long time, until one of the descendant's desire for a shift is great enough to look for help. Family Constellation workshops are one of the most powerful tools to release trapped emotions and traumas and bring freedom and happiness back into one's life.
People from all walks of live everywhere can participate in a family constellation VIRTUAL workshop from the comfort and privacy of their own home.
For more information please head over to the FAQ's.
Maia
Maia aka Andrea Bahlsen, who studied Family Constellation with Bert and Sophie Hellinger directly in Germany for over 4 years and participated in many Hellinger workshops, graduated with a BA in Family Constellation in the method of Bert Hellinger, at the Uni Jean Monnett in Brussels in 2010. Since then she has worked as a facilitator, life coach and healer in Switzerland and New Zealand and facilitated many family constellations, both in English and German language.
Up to then she was practising in a law firm in Germany, specialised in Franchise Law, with international clients from Europe and US, wrote several books and articles and was frequently invited as a speaker to international events about Franchise Systems.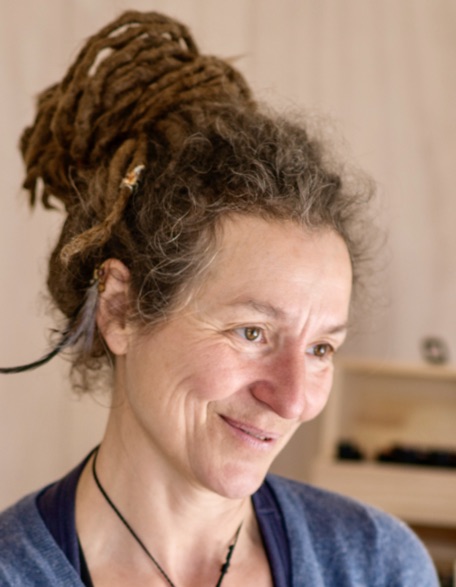 Maia has also studied energy healing techniques like re-birthing, regression, trauma relief for many years with Malcom Southwood of Southwood Healing Center in London.
She founded Essential Healing in New Zealand to provide one-on-one sessions to help clients with family constellation and energy healing, assisted by Essential Oils, to unveil buried emotions and hidden traumas.
All these skills are merging in her Family Constellation workshops and providing a safe, uplifting and intuitively guided experience that is grounded in the wisdom of her teachers and her 15 years of practical work with thousand of family constellations. Maia is very passionate to pass on her knowledge to everyone who is keen to expend and personally grow and learn how to facilitate Family Constellations in the method of Bert Hellinger and become a systemic and energy coach in her online trainings.
To see what others say, go to the YouTube channel for Real Life Stories or look up the Testimonials.