The New Family Constellation is a fascinating tool to access the world that lies beyond the obvious and uncover what is hidden in the morphogenetic field of our family systems.
If it has helped you to gain freedom and happiness in your life and you feel the urge to deepen your understanding of how this modality work or you have the desire to help others, the family constellation ViRTUAL training is the right choice for you!
The teaching content is packaged into modules. Each module consists of 2 or 3 parts and can be booked individually or all together as a complete training.
Modules 1 to 3 convey the basic knowledge how to work with the New Family Constellation in the method of Bert Hellinger, designed for your own self-development and for you to help others who desire to make a shift.
Check out the details for each training module by clicking on the picture:
Module 4 provides powerful tools to enhance the family constellation process and teaches how to work with the mother/child relationship and to access childhood and past life traumas.
Module 5 shows how to set up one-on-one sessions to facilitate Family Constellations including the use of figurines, essential oils and floor anchors to release stuck emotions and support a shift for friends, family members and clients.
Each module can be booked separately by everyone interested in the content or can be added to the tool kit of someone who is familiar with Family Constellations or already working with other healing modalities.
They can be taken in any order and are also suitable for those who are looking for personal growth and just embark on the journey to self without any previous practice or knowledge.
All modules are live and
face-to-face on Zoom,
with Q&A in each module.
This is an excerpt from Training Module 1 Part 1 on July 2020
If you are ready to book the complete training program to be certified by Maia as a systemic coach and family constellation facilitator and to get all the bonus content and discount that come with it, go straight here.
Maia is a great teacher. I met her after almost 10 years of experience with various constellations' facilitators. Her work is firmly rooted in Bert Hellinger's teachings and this is extremely valuable. 
I learned from her the subtle and often invisible distinction between what it means to act and facilitate constellations on an emotional level and doing so on a higher energetic level. My experience as a healer and coach has changed profoundly as a result of training with Maia and this is also reflected in my personal life. 
I am grateful for this path and would recommend it to anyone who wants to deepen their experience of family constellations and energy healing. Personal healing and evolution are a very welcome and inevitable 'side effect' for those who gift themselves this training.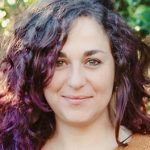 Francesca Satta
Yoga teacher, certified systemic coach and family constellation facilitator